One of the many services offered by Detroit Nipple Works is pipe threading and cutting. When it comes to threading there are many aspects you should know about the process and what constitutes a good thread. The purpose of threading pipes is to provide a good seal for pipes. Pipes that will be transporting things such as liquids, gas, hydraulic fluids, and other content.
When talking about pipe threading there are many keywords that often come up that you should probably be aware of. NPT which stands for National Pipe Thread Tapered and NPTF which is National Pipe Thread Fine or Fuel are just a few of the key terms when speaking about pipe threading. NPT is the main industry standard for pipe threading.
Types of Pipe Threading
Threads are made to match with other threads of the same type. Different regions produce different types of threads. For instance, here in America, the American National V-Thread is the most popular. Other types are the Square Frac Iron, Buttress Jacking Thread, and Round Triangular Thread. Threading pipe is usually tapered or straight. Usually, tapered provides a much better seal to prevent leaks.
At Detroit Nipple Works we can provide you with pipe cuts that are exact every time. There is a different selection of pipe-cutting options such as abrasive cutting, band saw cutting, cold sawing, laser cutting, lathe cutting, and shearing to name a few. The experts at Detroit Nipple Works can help you with your next order. We can help to get the exact cut and threading you need for your pipe.
Having a high-quality pipe or nipple product is essential to keep your business and manufacturing operation functioning at a high-profit level.
If you would like to learn more about pipe threading please visit our online seminar for pipe threading. Also, if you would like to place an order or ask us questions about our massive inventory or what products are best for you, give us a call at 313.872.6370 or use our contact form today!
The purpose of pipe couplings is to connect two tubes or pipes together. They are very short in length and have sockets on either end of the pipe. Pipe couplings can be used in any environment. Although all couplings have the same intention, there are many forms of them including rigid and merchant pipe couplings.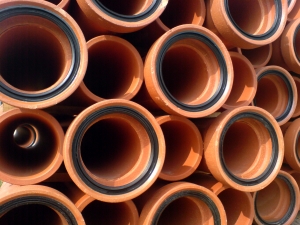 Rigid pipe couplings are made to fix a connection within an individual system or two separate systems. They can be attached to two different pipes, rather it is copper or steel while maintaining durability between them. Rigid couplings are small in size and are handy when it comes to plumbing.
Merchant Couplings
Merchant couplings are mainly used for piping problems involving low pressure. Being that it's made of steel, this makes it better to work with because it's easier to braze. Merchant pipes couplings are similar to rigid pipe couplings because they are required to be welded together after fastened to a pipe. These types of couplings shelter the thread so that it won't become impaired while unprotected by other elements.
Our merchant couplings are designed to protect the threaded end of a threaded pipe, a pipe with screw-headed threads for easy assembly, that run through water, gas, or oil lines. They are made to protect the thread so that it cannot be damaged or negatively affected when unprotected or exposed to the natural elements, especially in outdoor industries.
When it comes to merchant coupling or rigid your best source is Detroit Nipple Works. In addition, if you are in the search for DOM tubing, we have you covered as well. If you're looking for either of these pipe couplings, we have them both! Contact Detroit Nipple Works now to get your couplings! Finally, we here at Detroit Nipple Works follow all CDC safety protocols.
At Detroit Nipple Works our pipe threading capabilities are available in a huge variety of materials and many sizes to meet your requirements. We can supply you with special lengths, special threading including British Pipe, NPSM-Straight, SAE, etc. and also special end finishes; Monel and Alloy 20 for example. Please contact us with any questions you have or request a quote directly online.
Standard Pipe Nipple Finishes: Threading from 1/8" to 12" diameter
| | |
| --- | --- |
| | Thread Both Ends (NPT) – ASTM 733 A.N.S.IB1.20.1 |
Special Pipe Nipple Finishes:
Ream and Chamfered
I.D. reamed and O.D. chamfered
at 35° ± 10° to axis
Roller Cut
No burrs removed
Square Cut
Cut to central axis all burrs removed
ANGLE CUT
up to 65 degrees on most sizes
Straight Pipe Thread
NPSL and NPSM
Victaulic Cut Groove
Available Pipe Threading Capabilities
From carbon steel to stainless steel pipes, we can provide pipe threading services to any type of piping. In addition, we provide nipples and other metalworking services needed for any project. With a rich history of providing companies with all their threading, nipples, flanges, and much more. Not exactly sure what you need? The experts at Detroit Nipple Works can help you decide exactly what you need.
Finally, give us a call today at 1-888-698-7888 or use our easy contact form to place your order today.
Piping system can vary drastically depending on the application. Because of the varied applications, different special end finishes for pipe nipples may be required. Not all pipe nipples or pipe fittings are the same and all serve different purposes. We provide special end finishes for pipe nipples like:
Straight pipe thread
Roller cut
Reamed and chamfered nipple ends
Square cut to central access
Victaulic cut grooved finish
Angle cut end on nipple
Tapered end pipe thread
The history of pipe and pipe threading dates back to development in 1820 by Robert Briggs at Pascal Iron Works of the Morris Tasker Co. Located in Philadelphia PA, Robert created his first gage in 1834 to examine internal pipe threads. By 1862, he established a mating threaded ring gage for external pipe threads. It was then that he published a standard, that is now known as Briggs Standard Pipe Thread. Upon that standard, a huge majority of manufacturers began to use his threaded pipes by 1886.
The American Standard Association
Around 1905, various military and government agencies, along with The American Society of Mechanical Engineers, formed the American Standards Association (ASA). Its motive was to develop and use standards nationally. Come 1919, the American Standards Association created the National Pipe Taper (NPT) pipe threads, using the Briggs Standard Pipe Thread as its basis. Thus, the B2.1 standard was created with all taper pipe and straight pipes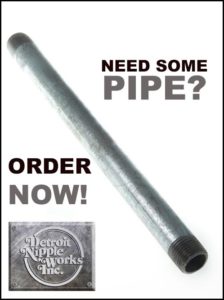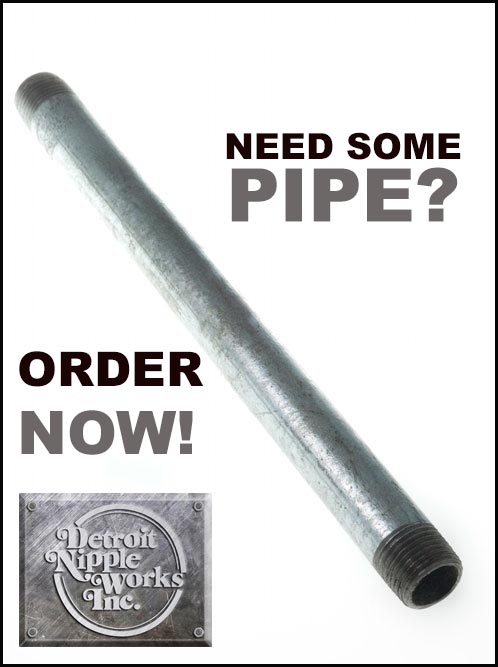 specifications and gaging. Shortly afterward, the American Standards Association B2.2 standard was created in 1927 to help be of service to the automobile industry. This type of standard was a modification of the NPT pipe thread (also known as the National Pipe Taper Fuel (NPTF) pipe thread). In the year of 1961, the "Aeronautical National Pipe Taper" Threads (ANPT) were produced.
Pipe Threading Today
Pipe threading, with a few exceptions, are formed on the outside caliber of a piece of fitting, tubing or pipe. It is formed in the inside of the mating port, fitting, or coupling. A pipe is generally identified by the inside diameter of the pipe, thus identifying its pipe threads as well. Pipe threads are designed to be massed by hand. Depending on the size will determine how many turns it'll take to assemble and lock together.
Detroit Nipple Works
Pipes and fittings are primarily used to carry liquids and gasses and need threading to help make the seals better and stronger. Contact Detroit Nipple Works today for American National Standard Taper Pipe Thread (NPT) or British Standard Pipe Taper Thread (BSPT) threaded pipes. We will be more than happy to assist you.