The 300 series of stainless steel includes; 301, 302, 304, 310, 316, 317, etc., and cover a variety of applications. While some are suited better for high temperatures (the H designation), others are low carbon (with an L). The most popular and widely used is 304 stainless steel. We manufacture and sell 304 or 316 stainless steel nipples to our clients. And due to recent capacity increases, we can produce sizes of 4″ to 12″ using 304 or 316 stainless.
Grade 304 is an austenitic chromium alloy also known as "18-8" because it is made up of 18 percent chromium and 8 percent nickel stainless. If there is no nickel, you have 400 stainless, which is magnetic and even less corrosion resistant. However, the 304 & 316 are not magnetic. Check out some of our other articles, if you want to know more about stainless steel. But, what is the difference between 304 and 316 nipples?
---
What is the difference between 304 and 316-grade stainless steel?
The difference between a 304 nipple and a 316 nipple is the composition of the steel grades. While both grades have chromium and nickel, the 316 -grade nipples have molybdenum. Molybdenum is an alloy that increases corrosion resistance, especially against chloride and other industrial solvents. As a result, 316 stainless steel is often seen in applications such as kitchen sinks, ovens, etc. Stainless Steel with 316-grade alloys is excellent for connections and tubing. Also, 316H grade is made to withstand higher temperatures. Unlike 316 & 316L it isn't stocked with dual certification. Some common uses of 316-grade steel are:
Industrial Equipment
Marine Equipment
Medical Equipment
Commercial Kitchens
Pressure Valves
304 stainless only has trace amounts of molybdenum which makes it less corrosion-resistant than 316. The popularity of the 304 relates directly to its ease of welding and fabrication. The 316 austenitic stainless steel is regarded as second in importance to the 304 grade but is also great for welding. The 304L and 316L both contain low carbon that making them better options for applications that require welding. Some common uses of 304-grade steel are:
Storage Tanks
Pots and Pans
Residential Appliances
Fasteners and Finishing Hardware
Equipment Tubing
Regardless if you are looking for 304 or 316 nipples, Detroit Nipple Works has you covered!
304 or 316 Stainless Steel Nipples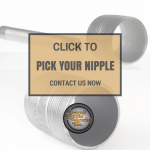 As we said, Detroit Nipple Works primarily uses 304 or 316 stainless for manufacturing nipples in this material. While we produce nipples using other types of steel pipe, stainless is the most popular. Your choice between 304 and 316 nipples really depends on the application. Whereas, many industries use 316 nipples for surgical equipment and pharmaceutical equipment, and so on. 316 or 316L are the best choices for stainless steel nipples in chloride environments as you will have less pitting and acid-based corrosion.
For more information on 316 or 304 stainless steel pipe nipple application please call our experts at 313-872-6370 or inquire through our contact form. If you already know what you want, please fill out our request for quote form on what you need. Will it be 304 or 316 nipples?