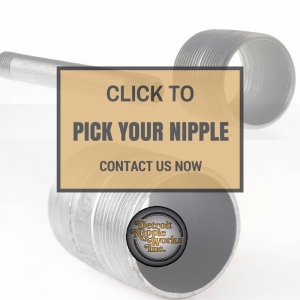 Stainless Steel Nipples – Characteristics
Stainless steel nipples do not stain, rust, or corrode the way standard steel ones do. There are different grades of stainless steel that have an impact on the amount of resistance to corrosion and heat. In addition, stainless steel is different from carbon steel, determined by the amount of chromium within.
Choose For Your Application
Stainless Steel Nipples are high-quality stainless steel fittings that are perfect for low-pressure applications where you need corrosion resistance in water, oil, and gas. Stainless Steel Fittings have pressure ratings. These ratings are 150 psi for water, oil, and gas, and meet ANSI B 16.3 and MSS-SP114. Type 316 material has a higher corrosion and heat resistance than type 304 material. In addition, all connections are NPT threaded. Custom sizes can be specially ordered. Premium Quality Steel Nipples and Stainless Steel Fittings and Valves are consistent and maintain high quality. Popular applications use 304 and 316 Steel Nipples.
In addition to the nipples, Detroit Nipple Works can provide you with stainless steel pipe fabrication. Pipe fabrication is creating a predesigned pipe for various uses in different industries. A stainless steel fabricated pipe can be used in industries such as irrigation, aerospace, and plumbing to name a few. Of course, stainless steel is not the only type of fabricated pipes, there are other materials such as:
hydraulic pipe
carbon steel pipe
aluminum pipe
copper pipe
brass pipe
galvanized pipe
As one of the top stainless steel pipe suppliers in the country, you should always turn to Detroit Nipple Works for your materials. We can provide you with the nipples and pipe you need to finish your next job. With over 80 years of experience, we are the right choice for your next order. All of our stainless steel pipes meet the quality international standards of ISO 9002.

Stainless Steel Seamless Pipes
Stainless steel seamless pipes are pipes formed from steel rods which are then pushed on a mandrel to form the desired shape. Without the weld, the seamless pipe provides many benefits over the more traditional one. One of these benefits is the uniformity of the shape of the tube. While the weld may affect the shape or diameter of the tube, the seamless does not have that problem. Of course, another benefit is the overall strength of the seamless tube.
A welded tube will always be weaker along the actual weld than a seamless tube. Due to the strength of the seamless tube, the pressure rating is much higher than the welded counterpart. Stainless steel tubing seamless or not is usually much stronger than other materials. In addition to the tubing, Detroit Nipple Works offers a large variety of fittings, nipples, and valves as well.
Popular Stainless Steel Pipe Fittings and Nipples
As mentioned earlier, we make a variety of 304 and 316-grade stainless steel nipples. These types of nipples are generally used in different industries from plumbing to appliances and for more specialized uses. There are different grades of nipples. One is the 316H grade, this represents the ability to work with higher temperatures. The L grade is preferable for industries that require welding because it contains lower carbon.



When it comes to stainless steel, there are five common types. Precipitation hardening, duplex, martensitic, austenitic, and ferritic are the different types. If you would like to learn more about the types, click here. In addition to nipples, there are also stainless steel weld fittings you can get for your pipe. If you need a very durable and reliable fitting then stainless steel should be your first choice.
Detroit Nipple Works For All Your Stainless Steel Needs
Detroit Nipple Works can produce many sizes of Steel Nipples even larger sizes using 4″ to 12″ stainless steel seamless pipe. The most popular type we sell is those made from 304 and 316 stainless. To inquire about Stainless Steel Nipples, please call 313-872-6370 or, also if you wish to place an order, use our easy online form to Request Your Quote Today!