Along with industrial galvanized fittings, industrial hydraulic pipe fittings, industrial galvanized pipe and industrial hydraulic pipe, Detroit Nipple Works also specializes in industrial carbon steel fittings.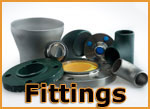 To fully understand what industrial carbon steel fittings are, we should cover what carbon steel is. Carbon steel is steel composed primarily of carbon. The American Iron and Steel Institute (AISI) defines carbon steel as the following: "Steel is considered to be carbon steel when no minimum content is specified or required for chromium, cobalt, molybdenum, nickel, niobium, titanium, tungsten, vanadium or zirconium, or any other element to be added to obtain a desired alloying effect."
Detroit Nipple Works can custom make any industrial carbon steel fitting you need. With well over 75 years in the business, Detroit Nipple Works is the professional, experienced well staffed company, that can handle all your pipe fitting needs.
Either industrial carbon steel fittings or industrial galvanized fittings, Detroit Nipple Works can deliver for you on time and on budget. We can make any size fitting that is needed for the job.
Do not delay, use our quote form to get a free estimate on industrial carbon steel fittings. Or give us a call today at 1.888.698.7888.