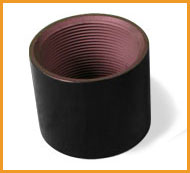 Made of steel tubing (either carbon, galvanized, stainless, or black), merchant couplings are used often in low-pressure piping situations, like with water, oil, air, or gas lines. They function by connecting straight pipe to straight pipe like couplings generally do.
For the threaded pipes (a pipe with screw-headed threads for easy assembly) that run through gas, air, oil, or water lines, these couplings usually come attached to them. They are designed to protect the thread on the threaded end of the pipe. This is so that it isn't damaged when exposed to the elements, especially in the plumbing industry.
In the event that the pipes do not come with these coupling already attached, they need to be welded once threaded to a pipe, much like rigid pipe couplings. The mild steel makes merchant couplings easier to weld on than other couplings. No casting marks can be detected on merchant couplings. They also have a smooth exterior with no visible seams or bends.
Merchant Couplings Inventory
In full compliance with ASTM specification A865, high-quality merchant couplings from Detroit Nipple Works. They work best in low-pressure piping situations that have an approximate PSI of 150, where the temperature is moderate to low, and shock is minor.
In addition, our couplings come in full, half, left or right couplings and whether or not they have tapered thread is contingent on their size. So make sure you speak with a professional at Detroit Nipple Work to find out if or which merchant couplings are appropriate for your next task. Finally, contact us here or give us a call at 1-888-698-7888. We look forward to speaking with you!