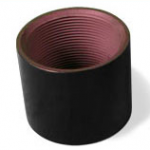 Merchant steel refers to a certain quality type of galvanized, carbon, or stainless steel. This type of steel performs especially well under low-pressure piping situations such as water, gas, or oil lines. Due to the couplings being made of steel, they are better to work with as they are easier to braze and do not corrode.
Merchant Steel Couplings At Detroit Nipple Works
Pipe Couplings are used to connect two tubes or pipes together. Generally, pipe couplings are short in length and stocky with sockets on either end of the coupling. The steel couplings are welded together after being fastened to a pipe or tube. Merchant steel makes the couplings much easier to weld on than other couplings. Furthermore, no casting marks can be detected on merchant steel couplings. This allows them to have a smooth exterior without visible seams or bends.
Our merchant couplings are designed to protect the threaded end of a threaded pipe, a pipe with screw-headed threads for easy assembly, that run through water, gas, or oil lines. They are made to protect the thread so that it cannot be damaged or negatively affected when unprotected or exposed to the natural elements, especially in outdoor industries.
Couplings Available Today
Here at Detroit Nipple Works, we have a wide selection of high-quality merchant steel couplings. They work best in low-pressure piping situations with a pressure of roughly 150 pounds per square inch (PSI). At this pressure, the temperatures are low and shocks are minor.
Also, we have different size and rigid couplings for your project. Our couplings come in full, half, left or right sizes. We stock from 1/8" – 2-1/2" but we can get the larger size. You can fill out our free quote form and give us the type of steel coupling with the size you need for your project. Contact us or call us at 1-888-698-7888. We look forward to hearing from you!