Stainless Steel Nipples – Characteristics
Stainless steel does not stain, rust or corrode the way standard steel does. There are different grades of stainless steel which has an impact on the amount of resistance to corrosion and heat. Stainless steel is different from carbon steel, determined by the amount of chromium within. In addition, when it comes to this steel there are two grades, austenitic and martensitic.
Austenitic steel is made from chromium and nickel. While the martensitic is usually a stainless steel alloy made from hard steel crystalline. Both grades are designed to prevent corrosion. There are five different grades, 200, 300, 400, 500, and the 600 series.
Inventory of Stainless Steel Nipples
When it comes to pipe nipples made from any metal, Detroit Nipple Works has a large inventory to choose from. Furthermore, we carry nipples such as carbon, aluminum, seamless, and B.S.P.T. to name a few. Also, when it comes to end finishes you can choose what type you want. Ends such as tapered pipe thread, roller cut, square cut and grooved are some of the different choices available at Detroit Nipple Works.
We provide nipples that can be used in a number of industries. Industries that use our nipples include architectural, pharmaceutical, machine-building, semiconductors, and more. At Detroit Nipple Works we have manufacturing nipples and metal pipes for over 80 years. With extensive knowledge of nipples, tubing, pipe couplings and more we can answer all your questions. We can help you find the exact product you need to finish your next project. Even HVAC suppliers use our products such as Tridan International and other companies.
Detroit Nipple Works has supplied companies all over the country. If your next job or project requires steel pipe, nipples, couplings, or any other metal material contact us today! Finally, give us a call at 1-888-698-7888 if you would like to discuss Stainless Steel Nipples, for a project or to place an order.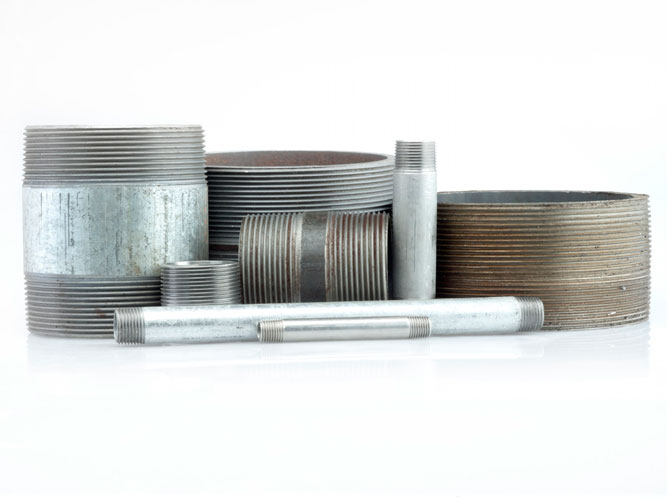 Posted In: Nipples, Stainless Steel Nipples