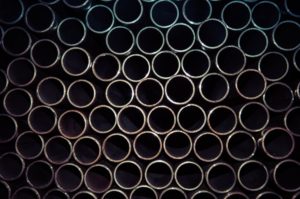 Stainless steel is a metal alloy known for being non-corrosive and strong. Here at Detroit Nipple Works, we offer five stainless steel grades; 200, 300, 400, 500, and 600 series. Each stainless steel grade has its own purposes and uses within their respective industries.

Austenitic Steel Grades
Austenitic steel is a type of steel made up of chromium and nickel. The low carbon levels found in the steel minimize the risk of sensitization. Also, austenitic steel is non-magnetic, corrosion resistant, and formable.
The 200 steel series is made up of austenitic alloys containing chromium, nickel, and manganese. While they are less strong than their 300 series counterpart, the 200 series tends to have better impact resistance. Due to the strong impact resistance, automobile manufacturers use 200 steel grades to form the automobile structure. The 200 steel grades are also used in making kitchen appliances, in-home water tanks, and cutlery.
The 300 series is made up of austenitic chromium-nickel-molybdenum alloys. This series is known for its resistance to corrosion and long-term strength in high temperatures. For example, the 304 type, or the classic 18/8 stainless steel, is the most common and used type of stainless steel. It is used in a variety of household and industrial appliances and is also used in architectural applications such as water and fire features. Other applications of the 300 steel grades include use in the aerospace, automotive, and construction industries.
Martensitic Steel Grades
Martensitic steel is a type of stainless steel alloy that is made up of hard steel crystalline. The martensitic steel type was developed to create a stainless steel alloy that would be resistant to corrosion and hardened or tempered through heat training.
The 400 series is made up of ferritic, magnetic steel containing high chromium and low carbon content, and martensitic chromium alloys. The low carbon content within the steel provides the stainless steel grade with high strength and strong resistance. Furthermore, the 400 steel grades are used in agricultural equipment, hardware, gas turbines, automobile exhausts, and other high-stress industries because it is so strong.
The 500 series consists of heat resisting chromium alloys and the 600 series consists of martensitic precipitation hardening alloys. The heat resisting chromium alloys and martensitic precipitation hardening alloys are used for applications requiring high temperature and corrosion resistance. Both of the 500 and 600 series are used in the mining and aerospace industries.
Detroit Nipple Works
Detroit Nipple Works is one of the top stainless steel pipe suppliers in the country. Therefore, you should always turn to us for your stainless steel grades. We can provide you with the nipples and pipes that you need to finish your next project. With over 80 years of experience, we are the right choice for your next order. Request a free quote and contact us today for more information.
Posted In: Stainless steel
Tags: 200 steel grade, 300 steel grade, 400 steel grade, 500 steel grade, 600 steel grade, stainless steel grades