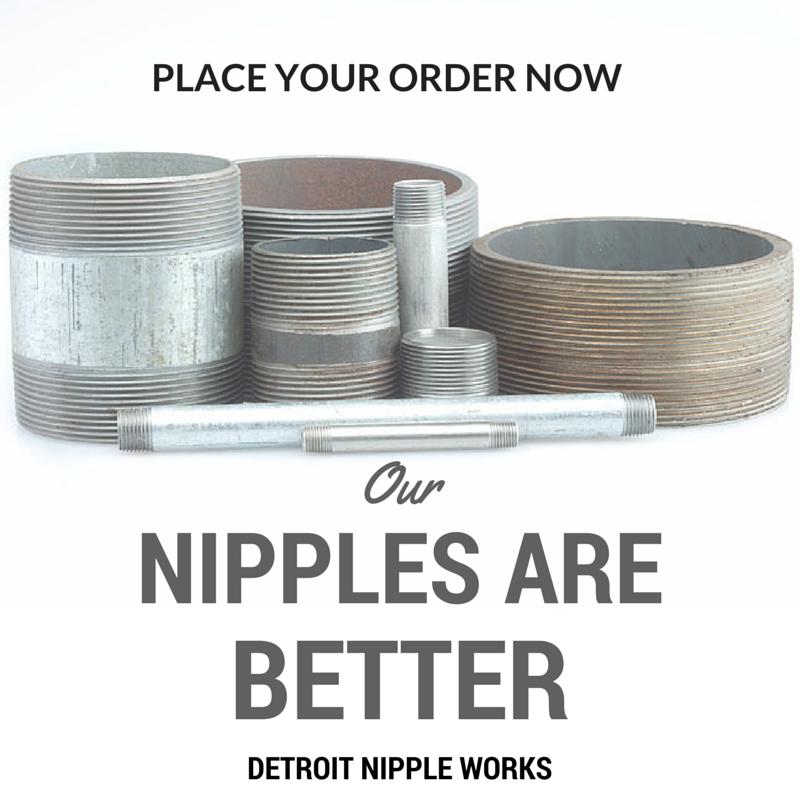 Detroit Nipple Works offers highly durable and corrosion-resistant seamless nipples for use in high-pressure applications. When doing hydraulic, refinery, or petrochemical work, seamless nipples are your best option for a successful transfer. Also, you can get seamless nipples in sizes anywhere from 1/8 to 4 in. in diameter and up to 12 in long, allowing you to complete any job on hand
Ensuring you use the proper material for the type of job you are doing is very important. Since many chemicals will corrode or cause reactions with certain materials, stainless steel seamless nipples are the correct option for this type of job.
Other Types of Nipples

Detroit Nipple Works carries carbon steel pipe nipples and steel fittings that are in plumbing systems, construction energy, processing, and fabrication industries. Carbon steel nipples and fitting are resistant to corrosion, high efficiency, and functionality.
Aluminum Nipples are known to be ultra-light, allowing for optimal weight reduction. As a result, these fittings one-third the mass of brass nipples. Furthermore, it is resistant to corrosion. These nipples are commonly used in commercial products that have environmental challenges. However, these nipples are not ideal for wet or salty conditions because corrosion occurs.
Galvanized Nipples have zinc-coating that allows these products to be extremely resistant to corrosion. As a result, these nipples are long-lasting and tough. Furthermore, the process of galvanizing is cost-effective. However, you need to connect nipples with galvanized fittings. It is the only way to create a secure connection.
Cut groove nipples are the fittings used within grooved cut piping systems. These piping systems are an alternative to joining pipes without welding. These cut groove nipples allow for a pressure-tight piping system. These nipples are used in heat/cooling instillations, hot/cold water plumbing systems, fuel/oil, mining, fire protection, and sewage.
National Pipe Threaded Nipples (N.P.T. Nipples) is the standard thread type used in the United States. These nipples have taper threading, leaving imperfect threads at the end. When they go through torqueing, the flacks of the nipple compress against each other. As a result, it creates a successful seal. This type of threaded nipple is the most common in America.
B.S.P.T. nipples (British Standard Pipe Thread Nipples) is a family of screw threads that have found international use in regards to interconnecting and sealing a pipe. There are two types of threads that these nipples can have parallel or straight.
Stainless steel nipples have amazing qualities. These nipples do not stain or rust like other steel nipples do. Each grade is capable of handling different levels of heat and corrosion factors. There is a difference between carbon steel and stainless steel nipples based on the amount of a certain element within the nipple. However, stainless streel nipples have found a wide variety of uses.
Brass is one of the most popular materials used in nipples and fittings. It has many advantages over other materials because of its incredible corrosion resistance. In fact, brass nipples and fittings are found in the plumbing industry, especially within their systems. They are also found in the automotive industry.
Seamless Nipples Available at Detroit Nipple Works
Seamless is much more reliable under high pressure than a welded nipple. A welded nipple is a good option, seamless tend to hold a few advantages over it. Also, seamless can handle high-pressure gas or liquids, while welded is more for low-pressure liquids. Welded pipe nipples raw material welded pipe needs to be welded after rolling. Seamless raw material seamless steel pipe is forming at one time during rolling. Also, because of this seamless tends to cost more.
Whether you are looking for seamless or welded nipples, Detroit Nipple Works has what you are looking for. We have a larger inventory than most suppliers and we deliver on time. If ever you are unsure of the type of nipples you need for a job, make sure you speak to someone who knows the proper uses for each material. Detroit Nipple Works wants to help you get all nipples, pipe fittings, or pipe tubing you need for the job. Finally, call Today 313.872.6370.