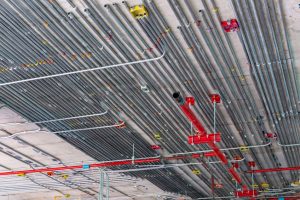 Many might think that our nipple production is primarily for water or gas plumbing applications. Although that is probably correct, we do a large business as a nipple provider for industrial electrical projects as well.
Nearly every construction project requires some form of electrical work. This can include lighting, switches, hoists, or larger industrial electrical work. A major aspect of an electrical installation is ensuring that wiring is properly secured and protected. Also, during the construction process, electrical conduits, or steel nipples designed for electrical applications may be required. An electrical conduit is a steel pipe or tube with steel nipple in which wires are routed through to provide protection from elements.
Using Steel Tubing or Pipe to Create Electrical Conduit
An affordable option for creating industrial electrical conduits is to use steel tubing. Select the diameter of tubing needed, based on the number of wires being routed through, as well as the length of tubing. In addition, there are codes for creating conduits. 1/2 inch steel tubing is available in addition to the typical 3/4 inch steel tubing used.
To create your electrical conduit the process is pretty simple. After installing the handy box, you will connect the steel offset fitting. This provides a sturdy connection for your steel tubing. In addition, some electrical projects require a turning point. When this occurs, use a steel pulling elbow to complete the turn.
Selecting Proper Steel Tubing Materials.
Detroit Nipple Works offers a wide selection of metal tubing materials to select from. Steel tubes, nipples, and steel fitting are all available any number of electrical applications. View our size chart to select the dimensions needed for your project. We fill orders in a large range sizes and quantities. Including bulk orders for large construction projects.
Finally, for more information, feel free to contact our tubing professionals to any answer questions you may have. Large or small orders can be shipped throughout the United States. In that regard, we want you to make us your go-to supplier for industrial electrical projects
Posted In: Industrial Suppliers, Nipples, Pipe
Tags: industrial electrical projects, Industrial Tubing, nipples for electrical conduit connections, pipe supplier for industrial electrical conduit