Industrial pipes are not just used for waterways. In fact, you can use them to create unexpected Do It Yourself (DIY) pipe decoration projects. Many people are making DIY home decor and furniture out of stainless steel pipes for their interior homes. Everything from hanging beds, light fixtures and benches to curtain rods and shelving organizers…the possibilities are endless. Not only are DIY pipe decorations versatile, but they also are simple to assemble as well.
Pipe Decorations for Interior Homes
Are you looking to remodel the interior design in your home sometime soon? Perhaps, you're looking for ways to spruce up the bedrooms in your home? There's always room for improvement when it comes to interior home designs.
Below is a creative way to decorate your bed using a pipe decoration projects.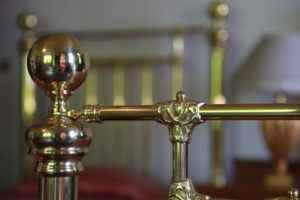 Pipe Hanging Beds
For each bed, cut 2 pieces of 2" x 12" to 78 1/2" and 2 pieces to 38" of wood (save the scraps for the blocking in the ceiling).
Pre-drill your holes and screw 3" lag bolts in with washers from the side into the end pieces of the other 2" x 12" piece. Repeat this step and do the top and right side of the bed top and bottom as well.
Line up the bottom edges and screw them into the sides with wood screws.
Cut some more wood to create slats for the width of the bed. Eight slats are recommended.
Attach the elbows and flanges to the head and foot of the bed.
Arrange your bed(s) where you'd like for them to hang from the floor.
Pre-drill holes where the flanges will be placed and stick a wire into the ceiling so that you're able to see where the bed(s) will hang.
Screw the flanges into the ceiling with 2 1/2″ lag bolts.
Screw and tighten your threaded pipes into the flanges on the ceiling and screw the elbows onto the bottom.
Of course, there are other types of beds you can make or buy with metal pipes. Using brass pipe can really make your set stand out! Check these metal pipe beds out on Pinterest.
Industrial Pipes at DTNW
In need of industrial pipes for your interior home pipe decorations? Contact Detroit Nipple Works! Being in business for over 20 years now, we'll be sure to get you the proper pipes and tubes needed for your new transformation.
Posted In: Brass Pipe, DIY Projects, Industrial
Tags: DIY Industrial Pipes, DIY pipe projects, industrial pipes, Pipe Decorations