Reducing flanges are a durable, corrosion resistant flange designed for the connection of two pipes with varying sizes. Whether you are attempting to connect a larger pipe to a smaller pipe or a small to large, reducing flanges are what you will need to get the job done.
With outstanding features of reducing flanges, such as their superior durability, strength, and dimensional accuracy, you are able to connect different sized pipes at ease. The dependability of Detroit Nipple Work's high quality reducing flanges are available in the following materials:
Carbon Steel
Brass
Cast Iron
Bronze
Aluminum
P.V.C.
Alloy Steel
Stainless Steel
With reducing flanges offered in such a wide variety of materials, you piping system can stay consistent whether you are using stainless steel piping or even P.V.C. piping.
As well as the various materials used to create a reducing flange, they are also available in various connection types and pressures. Weld neck flanges, slip-on flanges, or threaded flanges are all available as a reducing flange. Be sure to talk to a member of our team to ensure you are selecting the best pressure or material for your application.
There are many advantages of using a reducing flange within your application, not only do they allow you to connect two different size pipes, they are also the easiest and most inexpensive method to do so. Reducing flanges can be used to conserve water, they are resistant to acid and corrosion, and are commonly used in power plants and on industrial vessels because of their significant advantages.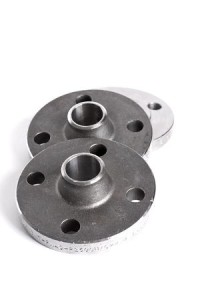 Reducing Flanges from Detroit Nipple Works
High quality reducing flanges from Detroit Nipple Works are built to last a long time and are perfect for making transitions between pipes of different sizes and dimensions. In addition to our high quality reducing flanges, we also carry Blind Flanges, Threaded Flanges and Tank Flanges. Whatever type of construction project you are preparing to tackle, Detroit Nipple Works of Detroit, Michigan has the flanges in stock to assist you.
Our knowledgeable sales staff is awaiting your call so they can get back to you with your quotes within an hour, and then ship your product the next day. Special orders may take a couple days. To purchase one of our high quality Carbon Slip on Flanges, Stainless Steel Slip on Flanges or Stainless Steel Weld Neck Flanges now, contact us at 1-888-698-7888 to get a free estimate.