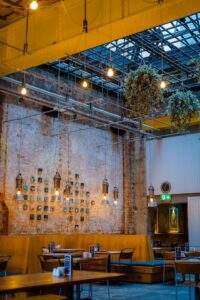 Are you looking for an industrial theme decor supplier?
When it comes to interior and exterior designs for homes or businesses, there are plenty of themes to choose from. Some people like the cozy feeling of a farmhouse while others might like a mixture of retro and current with midcentury modern. There are many styles to choose from, but a trending theme is industrial. Although some people consider this style cold and unattractive, there are many trendy retail operations that adopt the industrial look. Homebuilders and homeowners are picking up on this as well.
Qualities of Industrial Decor
Due to the conversion of former factories into condos, the industrial or urban style has become a trend. But why? The conversions took advantage of their environments keeping concrete walls and floors. Exposed beams and stripped floors are common, as well as the use of stainless steel and metal. The furniture was often made of reclaimed wood, leather, and stainless steel. The style puts a strong emphasis on space, having sparse furniture and being dominated by chrome and raw materials.
There are seven characteristics of industrial decor:
Neutral Color Palette
Natural Light
Highlights Architectural Materials
Repurposed Material
Graphic Lines
Coziness with Natural Textiles
The industrial decor feels like a combination of Bohemian style and engineering, giving an old yet new vibe throughout the home. While many companies are producing industrial-style furniture and decorations, many want a custom look. However, obtaining the stainless steel, black galvanized pipes, fittings, and tubing can be hard to find; especially in large qualities. Detroit Nipple Works is the perfect choice to be your industrial theme decor supplier!
Decor Materials and More!
When it comes to finding material for your industrial decor, it doesn't have to be a challenge. Our company has an extensive inventory of pipes, valves, fittings, and tubing ready to ship nationwide. In addition, we do custom cutting, bending, and fabrication for special orders.
Posted In: Fabrication, Industrial Suppliers
Tags: industrial theme decor, materials for industrial decor