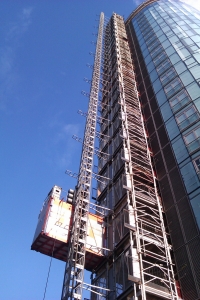 Did you know that the amount of money being spent on construction in the United States is as high as it's been in four years? The Commerce Department in Washington reported last month that in July of this year, "outlays climbed 0.6 percent to a $900.8 billion annual rate, the most since June 2009."
Big U.S. cities like Dallas, Houston and New York City are embarking on gargantuan new construction projects in 2013. New York City is playing a big role in the creation of the Prudential Financial 20-story office tower being built this fall and winter in Newark, New Jersey. The project is slated to cost a whopping $444 million.
Inevitably, the heftier the cost of a project like that one, or the $198 million expansion to the M.D. Anderson Cancer Center in Houston, the heftier the cost of construction materials such as galvanized pipes for plumbing or stainless steel pipes for air-conditioning piping systems.
Odds are you or your company are not spending nine figures on your construction project. But if you're getting ready to tackle a job and think you might need some help, don't hesitate to contact Detroit Nipple Works for the appropriate pipe and tubing, fittings, flanges, valves or energy efficient materials necessary to get your job done right.
Posted In: Detroit Nipple Works, Energy efficient materials, Grooved Piping, Hydraulic Pipe, Pipe, Steel Pipe Fittings, Steel Pipe Fittings Supplier
Tags: carbon steel pipes in Detroit, construction in Dallas, construction in Detroit, construction in Houston, Construction in New York, construction spending, Detroit Nipple Works Inc, galvanized pipes in Detroit, stainless steel pipes in Detroit