These type of flanges are applied when pipes are welded to the necks of pipe flanges so that they become fastened as one. Weld neck flanges have tapered necks, which are usually long in length and are thus preferred in high stress applications. They are welded with pipes so that stress is transferred from the welded neck to the actual pipe itself, and they typically come in the following faces:
Raised face weld neck flanges–  This is the most common face for weld neck flanges due to the fact that their gasket surface is elevated above the bolting circle face. They are easy to disassemble, and can be done so without springing the flange.
Flat face weld neck flanges– This type of gasket has a gasket surface in the same plane as the bolting circle face. The gasket on a flat face may be ring type or full face. Applications that use flat face flanges are usually those in which the flanged fitting or mating flange is made from a casting.
RTJ face weld neck flanges- Also known as "API Joints,"  RTF face weld neck flanges have a gasket that sits on the flat section of a flange between the ring joint groove and the bore. They seal when tightened bolts squeeze the gasket between the flanges. An RTJ face may have a raised face with a ring groove built into it.
They provide very durable connections and are resilient enough to withstand most dishing. They are also great for working in areas where there are unpredictable temperature changes. Typically, weld neck flanges are made from a wide range of steel grade materials, including: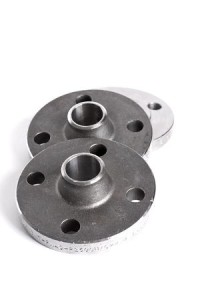 Stainless steel
Carbon steel
Alloy steel
Nickel alloy
Copper alloy
You'll want to make sure that when ordering your weld neck flange (also known as high-hub or tapered hub flange) you indicate precisely the size of your pipe because the diameter on the inside of the flange will match up exactly with the diameter on the inside of your pipe.
Weld neck flanges are one of the many types of flanges that we specialize in and carry at Detroit Nipple Works. Not sure if weld neck flanges are right for your application? Find out more about other flanges we specialize in;
What makes weld neck flanges different from these other flanges is that they are designed to be joined to a piping system by butt-welding, which is when welding of two almost parallel parts are welded together. Weld neck flanges also sport a long neck, which is why they are preferred in high-pressured applications.
Contact us at Detroit Nipple Works if you would like some more information as to which flanges would best suit your job, or if you'd like to request a quote.
Detroit Nipple Works now ships weld neck flanges to Ohio, South Dakota, Indiana, or Minnesota.