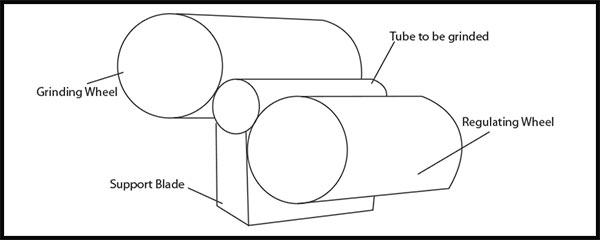 Are you looking for a place that can handle centerless grinding for your next project? What about honing services? Well you are in luck, because Detroit Nipple Work offers both of those services. That is right, centerless grinding and honing services are available right now, from Detroit Nipple Works!
Centerless grinding is used to remove excess material from the tube. While honing services are used to increase the diameter of the tube by shaving away material from the inside of the tube. We have extensive experience in metal working. We also provide honing service and centerless grinding to a wide variety of industries such as automotive, aeronautic, industrial, electrical and many more.
Why Choose Detroit Nipple Works for Honing Service and Centerless Grinding?
Detroit Nipple Works has a long standing tradition in the metal work industry and can meet expectations on any project. We pride our selves on meeting and exceeding customer expectations on all jobs. We back all our work and can ship materials quickly so you are not waiting for materials you need to complete your project or job.
Centerless grinding and honing services are only a couple of the services we offer. Of course we specialize in pipe nipples. In that regard, we can produce high quality nipples with virtually any kind of thread type and custom coating. The honing service and centerless grinding are affordable and available to our customers throughout the contiguous United States. Would you like to know more about honing services we provide? Or, our centerless grinding capabilities?  Please contact us with any questions on these or other services we provide.
We have a large inventory of tubing that we can provide for your projects or we can use the materials, tubing you provide for honing or centerless grinding as the need may be.  If you would link to submit your job order online please fill out a free no hassle quote form. Once we receive your submission we have a quick turn around on all orders.  . If you would rather talk to us in person, great! Give us a call at 1.888.698.7888 and our friendly knowledgeable staff will assist you!
Posted In: Centerless Grinding, Honing, Services
Tags: Centerless grinding services, Detroit Nipple Works services, Honing service, Tube honing services