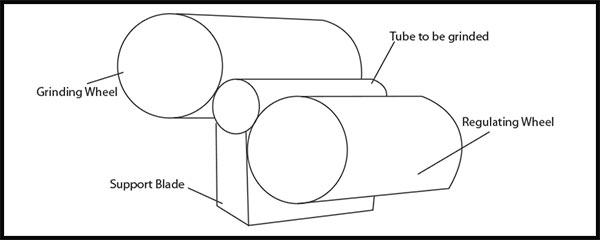 Centerless grinding is a process where you take a tube or pipe and place it between two grinding wheels that rotate in same direction at different speeds. This process is used to remove excess material from the tube. The different speed of the two grinding wheels provides the grinding action of the process. The difference between centerless grinding compared to pother grinding processes is the tube is not mechanically restrained.
Benefits of Centerless Grinding
Centerless grinding will provide surface finish, roundness and dimensional tolerances that are some of the best results in all of metal working. One benefit is the whole process is continuous which helps limit loading time. Another benefit is there is no axial thrust on the piece, with no end pressure, this will make it possible to grind more brittle materials. By using centerless grinding you remove the chance of error of centering the piece.
Because centerless grinding machines can be fed parts automatically, it saves time on the job for loading and cuts labor costs. The tight tolerances is still one of the greatest benefits, other types of grinding do not come close to the accuracy of centerless grinding.
Detroit Nipple Works offers centerless grinding services. With over 80 years of experience in the metal working industry we can provide you with top of the line service for all your grinding needs. Along with centerless grinding we offer a wide array of specialty services such as:
Threading 1/8″ – 12″ NPT, 1/2″ – 6″ BSPT & 1/8″- 2″ straight thread in Carbon Steel, Stainless Steel, Aluminum, Titanium, C-20 Alloy, Galvanized Standard & special thread lengths.
Cut groove up to 12″ diameter in Carbon Steel, Stainless Steel, Aluminum, Titanium & C-20 alloy.
Pipe cut & threaded from close to double random lengths.
Tubing cut to required lengths in E.R.W – D.O.M. Stainless Steel.
Fabricating, Drilling and Tapping, Bending & Welding per customer requirements.
Cutting all types of materials up to 24″ diameter with mitre cuts up to 70 degree angle.
Threading all types of material up to 12″ diameter.
P&O pipe available – Cut Grooves to 14" – Threading to 12" NPT & 6" BSPT
Contact Detroit Nipple Works today or give us a call at 1.888.698.788 for a quote on any service we provide.