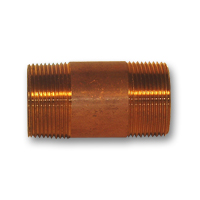 Brass products, in general, are structurally strong, easy to manufacture, and have a tendency to last long. Brass fittings are no different. Also, brass fittings are versatile, flexible, and more malleable than iron, forged steel, or stainless steel fittings. Brass fittings are used frequently in plumbing applications.
In addition, brass is an alloy made of copper that also incorporates zinc as an alloying element. Brass provides a more solid stage to facilitate the flow of liquids and gas, both in reducing or directing, as opposed to plastics. High-quality brass fittings sold at Detroit Nipple Works have outstanding high-temperature ductility and decent cold-temperature ductility.
They are popular because of inherent properties that make them greater than fittings made of other materials. Brass fittings are used for carrying water, slurries, chemicals, and flammable gasses. They hold many advantages, such as their strong resistance to fire. Also, they are resistant to corrosion, and their ability to withstand very hot temperatures. A Brass fitting is typically viewed as the best fitting for hot water distribution because it exhibit such excellent conductivity. This makes for efficient hot water distribution throughout your house.
Brass Pipe Fittings And Their Uses
In addition to their frequent use in a plumbing scenario. Brass fittings are often utilized in automotive applications for air brakes, fuel line valves, and at the ends of hoses. Some other uses for brass fittings include:
Ballcock adapters
Cooler adapters
Compression fittings
Refrigerator fittings
The durability of brass fittings is another one of their strong selling points. The fact that they are so durable makes them superlative for plumbing jobs. That calls for a resilient and long-lasting material. Brass fittings will uphold their solid condition for many years once you install them. They do not disintegrate very easily and their high resilience actually could add value to your home.
Brass fittings are either compressed (which forms leak-free copper pipe connections that do not require a torch) or threaded.
To find out more about brass fittings or some of our other brass products like brass nipples or brass pipes, get in touch with us today. We'd love to talk to you!