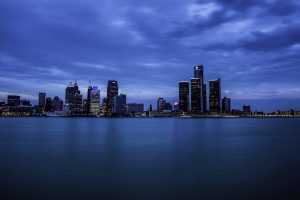 Detroit, Michigan is going through a positive rebirth. In recent years, the unemployment rate has decreased from the highest 19 % to a low 8.8 %. Furthermore, Detroit's poverty rate is significantly lower now than in recent years. With the positive changes occurring, the city of Detroit is improving through new construction and development. Detroit Nipple Works is proud to be a part of that! For nearly a century we've witnessed the building, then decline of our great area. New construction brings vitality to our great city.
Current Construction and Development Projects
Brush Park is a spacious neighborhood that is currently being redesigned. Mansions are being restored, properties are gaining investment value, and more residential units will be built in the following years. Vacant lots in the area are being transformed into condos, townhouses, and apartments.
Hudson's Site is expected to be the tallest building in Detroit. In 2022 or 2023, the construction is suspected to be completed. The iconic development will include a suspected 912-foot tall tower with an observation deck, podium, hotel, residential areas, office buildings, and more. This is arguably the largest project currently under construction in Detroit, just because it will be such a tall building.
The East Riverfront is a popular destination for both residents of Detroit and tourists alike. In the coming years, the currently vacant lots and warehouses will be transformed into both residential and retail properties. There are also plans for an urban beach, a river walk extending to Belle Isle, and more.
New Building Requires More Materials
Construction Projects require tons of materials to build. Wood, cement, aggregates, and stainless steel. With all of the construction currently underway, there is a great need for more materials. Detroit Nipple Works is benefiting and helping from this new construction. We are known in this area and beyond for our volume and variety of stock. In addition to our namesake; Nipple Works, we are able to provide stainless and carbon steel pipe, tubing, flanges, fitting, valves, pipe couplings and more. Whether your project is Downtown Detroit or across the country, please request a free quote or Contact us today for more information.
Posted In: Detroit Nipple Works, Industrial Suppliers, News
Tags: Detroit rebirth, development projects in Detroit, material supplier for construction, new construction in Detroit