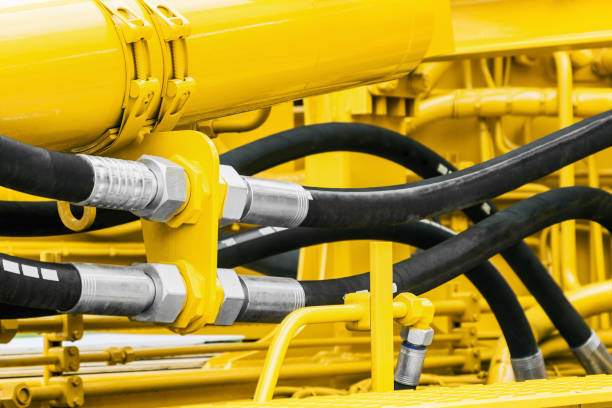 Hydraulic pipe provides transportation for fluid from one component to another. The three main liquids that will pass through a hydraulic pipe include petroleum oil, synthetic oil, and liquid with a high water content. Also, it is a very important part of the hydraulic system. The hose has to be able to tightly bend around all corners. Hose pipe flexibility enables components to be positioned inside the most efficient places, including tight places and across long distances.
Hydraulic piping has many uses, the most general being to transfer liquids. In addition, the pipes can be used to transfer energy-generating liquid to different systems to function as a full hydraulic system. For these instances, the pipes and tubes have to be rigid and immobile so the system can be easily controlled. Also, in contrast, construction machinery usually has flexible and open hydraulic tubing so as to allow flexibility and free range of motion.
Types of Hydraulic Pipe
The type of hydraulic tube depends on its use and the pressures or chemicals it may be subjected to.
Articulated hoses

are hydraulic hoses built in sections, with inflexible shafts connected by flexible joints. These hoses are used around sharp corners.

Reinforced hoses

have extra buffers in the reinforcement layer. Also, they are most often the hoses exposed to the strongest chemicals.




Coiled hoses

are designed for expansion and easy storing. Due to the hose being coiled, they can expand and not put extra pressure on the hose.




Corrugated hoses

have small folds in the hose material that allow easy expansion and flexibility.




Multi-element hoses

are hoses that have more than one element of the other types of hoses.
Threading
Knowing the correct threading of the hydraulic hose is important for repair. Selecting the wrong part can result in damage to the thread during installation. In addition, this negatively affects the pressure holding capacity and seal reliability of the hydraulic fitting. Also, there are six types of threads commonly used on hydraulic tube fittings:
UN/UNF

NPT/NPTF

BSPP (BSP, Parallel)

BSPT (BSP, Tapered)

Metric Parallel

Metric Tapered
Finally, for more information on hydraulic pipes and threading, contact Detroit Nipple Works today for a free quote!
Posted In: Hydraulic Pipe
Tags: hydraulic hose threading, hydraulic piping, hydraulic tubing, threading