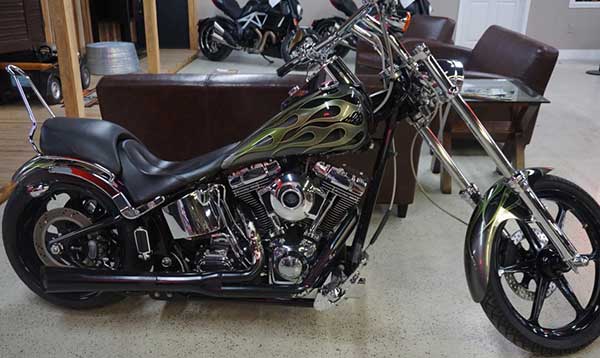 DOM (drawn over mandrel) tubing is a popular choice when creating custom bike frames. For applications that need strong tubing because of stress on it, many motorcycle frames are made by custom motorcycle and chopper builders using this type.  Due to stress from G forces or motion of objects, weaker tubing would break but DOM tubing is capable of handling the stress.  Many other automotive or industrial applications use it as well.
Because it is so durable, it makes it much more preferred by bike builders. DOM tubing does cost more than a seam welded tube, because of all the processing in the manufacturing that is needed to create it. Where ERW can be used, it doesn't have the strength that is created in the rolling of the metal.  Available in custom lengths and cuts, 1-1/4 in. with .125 in. wall DOM steel tube is often used for Chopper frames.
Custom Bike Builders choose DNW
Custom bike builders all over the U.S. use DOM tubing purchased at Detroit Nipple Works.  DOM tubing can be hard to bend and work with at times, but due to the over all strength and reliability of DOM tubing it makes for a great frame foundation of your motorcycle. DNW has the machines and expertise to make the precise cuts, bends and when requested, fabrication. It is important that you find a steel supplier that takes care of their inventory. Detroit Nipple work's steel tubing that is not dented, rust free and clean. We ship to all parts of the contiguous 48 states on a daily basis.
If you're a independent custom motorcycle frame fabricator you may be using a little larger tube because you don't have the equipment you need to bend what you want, the way you want it. We can make those bends. If your a custom motorcycle shop, we would like to be your regular supplier. Detroit Nipple works has been around for over 80 years, working with fabricators, distributors and Motorcycle enthusiast in Michigan and around the United States. California is a hot spot for Choppers and custom bike builders of course. The year round climate for riding in Southern California is probably the biggest reason. You might be surprised to find out however that much of the tubing for custom motorcycle frames and hardtails come from New York, Pennsylvania and all up and down the east coast.
Need to make an order or check on prices, availability and delivery?  Simply give us a call  at 1.888.698.7888 or use our easy quote form.