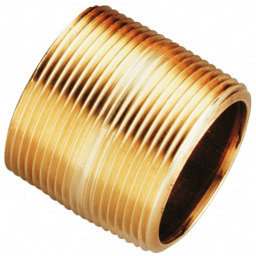 Detroit Nipple Works offers many assorted British Standard Pipe Thread Nipples, BSPT Nipples, British Standard Pipe Nipples, BSP Nipples, Welded Steel Nipples, Carbon Nipples, Cut Groove Nipples, Seamless Nipples, Aluminum Nipples, N.P.T. Nipples, Stainless Steel Nipples, Galvanized Nipples, Brass Nipples.
British Standard Pipe Thread Nipples
BSPT can be either parallel or taper threads. The parallel is a straight thread that will have a constant diameter. The tape thread will have a diameter that will increase or decrease through the length of the thread.
BSPT nipples can be used for two types of joints. Jointing threads thas is pipe threads where pressure tightness is made through the mating of two threads together. They always use a taper male thread but can have either parallel or taper female threads. In addition, Longsrew thread the joint is made by compression of soft material with the tightening of a backnut.
When it comes to this type of thread at least 41 sizes can be chosen. But of the 41 only 15 are actually ISO 7 and 24 in ISO 228. Of course, these are just one example of the many pipe thread nipples that Detroit Nipple Works has in stock. We carry a huge inventory of nipples and pipes for you to choose from. DO you have questions on what type you need? Call the experts here at Detroit Nipple Works at 1.888.698.7888.
We strive to provide the best customer service in the industry. With decades of experience and know-how, we can answer any question. Finally, for your British Standard Pipe Thread Nipples (BSPT Nipples), please call 313-872-6370 or uses our easy online Request for Quote Form.