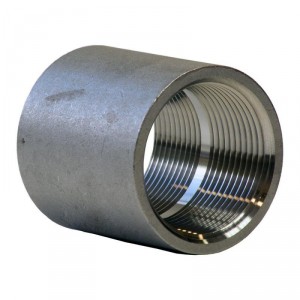 Detroit Nipple Works, located in Detroit, Michigan for over 85 years, is a leading supplier of industrial stainless steel threaded fittings. We offer a wide array of sizes that you need to complete your next project.
Industrial Stainless Steel Threaded Fittings are used in industries such as:
Oil
Gas
Nuclear
Paper
Chemical
Stainless Steel Threaded Fittings Benefits
In addition to having high corrosion resistance, stainless steel fittings have high temperature resistance as well. This means that a stainless steel fitting can handle extreme heats or freezing temperatures with no problem. Stainless steel have become the go to choice of many industries because of its durability and reliability. Also stainless steel fittings are available in a variety of surface finishes which makes them even more versatile. When choosing your next fitting, make sure to choose stainless steel for that peace of mind of added durability.
We can handle any size order for industrial stainless steel threaded fittings that you need. Also no matter what type you need from cut to size pipe, flanges, threaded fittings, butt welds or even valves, Detroit Nipple Works can have you order to you on time and at a reasonable cost. Threaded pipe is a stainless steel pipe with threading on each end of the pipe that lets the user screw in attachments or whatever they need on the end of the pipe.
Detroit Nipple Works can cut the pipe to size, and thread the ends as specified. There are different types of threads such as square thread, acme thread, acme thread with cut filet and trapezoidal thread.  Other types of industrial stainless steel threading are Whitworth thread, sharp V-thread and the rounded thread. No matter what type of industrial stainless steel threaded fitting you need, Detroit Nipple Works can provide it give us a call today at 313-872-6370 or use our easy Quote Form!