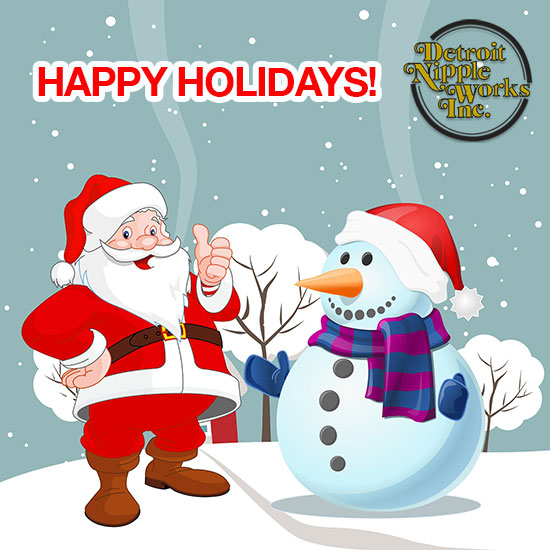 From all of us here at Detroit nipple Works, we would like to wish you and your family a safe and happy holiday. Also, if you are looking for a fun last minute gift we have the perfect gift for the golfer in the family. Show your love for Detroit Nipples with some of our great promotional gifts. We have polo shirts, golf balls, t-shirts and even speakers.
Give us a call today at 1-888-698-7888 to place your order for any of our fun items. We also have baseball hats and hooded jackets, so get yours today!
Happy Holiday Hours
Detroit Nipple Works will be closed December 25th and the 26th, we will also be closed on January 1st as well. Of course, you can always contact us by filling out our easy contact form or quote form. Would you like to keep up with the latest news on social media? Follow us on Facebook or Twitter, to keep up with all the latest news from Detroit Nipple Works.
One of the most well-known facts about us is our extensive inventory of items to choose from. We carry everything you need for your next project. We carry a variety of pipe and tubing that are used in a plethora of industries. Along with that we also carry flanges, fittings, nipples, valves and other specialty items. Looking for something you do not see? Give us a call, our experts can answer any question you may have.
"The impossible we do every day, miracles just take a bit longer" is a slogan we have used for years. We can meet any order you need in a timely manner. In addition, we have been providing quality service since 1934, and strive to provide the best customer service in the industry. Place your order today!
Once again, we would like to wish you and your family safe and happy holidays!
Posted In: Holidays