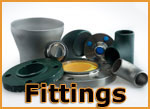 When it comes to a fitting that can handle high pressure up to 3000 lbs, Detroit Nipple Works has them. Our forged steel fittings can hold up to the most intense pressure. If your project uses high-pressure gases or liquids, then the tough durable forged steel fittings are your best solution. You do not want to rely on a lesser fitting that will fail you down quickly.
Forged Steel Benefits
What exactly is forged steel? Well, it is an alloy of carbon and iron that is compressed under extreme pressure. In addition, this steel is conducted using specialized machines or hydraulic hammers. The best benefit is that it is stronger than machined or cast steel. Also, there are three types of this steel, upset steel, drawn-out steel, and squeezed-in steel.
Drawn-out steel increases the length of the alloy and decreases the width. Upset steel increases the width and shortens the length. Finally, squeezed-in steel uses closed-dies that compact the steel into a solid shape.
Industries
These types of steel fittings are used in a variety of industries. Industries such as manufacturing, automotive, or pharmaceutical all use this steel. When it comes to the fittings, the biggest supplier in the MIdwest is Detroit Nipple Works. Even in these tough times, we have an extensive inventory for you to choose from. Forged steel fittings are the ideal option when it comes to connecting pipes. That is why you can see these products in a variety of industries and uses.
When it comes to high-pressure applications, you want steel you can trust. If you are not sure what fittings best suit your needs, call the experts at Detroit Nipple Works. Our experienced team can help you find the exact parts you need. In addition, recommend other parts you may have not considered. Contact us today about all our fittings and nipples!