British Standard Pipe Nipples /BSP Nipples
The British Standard Pipe Nipples (BSP Nipples) connections include two types of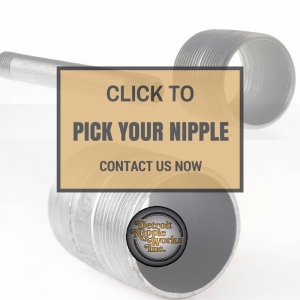 threads, the BSP which are straight or parallel, and British Standard Pipe Thread (BSPT) which are tapered. The BSPT tapered male will mate with a BSPT tapered female and seals on the threads. The BSPP parallel male has a 30° chamfered seat which seals with a BSPP swivel female on its 30° cone seat. Similar to the American NPSM-NPTF connection, the BSPP swivel female end is commonly found on couplings.
The BSP threads are similar to, but not interchangeable with American NPTF pipe threads. The thread pitch is different in most sizes, and the thread angle is 55° instead of 60° angle found on NPTF and NPSM threads.
Detroit Nipple Works offers many assorted British Standard Pipe Nipples, BSP Nipples,  Welded Steel Nipples, Carbon Nipples, Cut Groove Nipples, Seamless Nipples, Aluminum Nipples, N.P.T. Nipples, Stainless Steel Nipples, Galvanized Nipples, Brass Nipples.
For your BSP Nipples, please call 313-872-6370 or uses our easy online Request for Quote Form.
BSP and BSPT Nipples are now available in Wyoming or Montana.