.Choose For Your Application
Stainless Steel Nipples are high-quality stainless steel fittings that are perfect for low-pressure applications where you need corrosion resistance in the water, oil and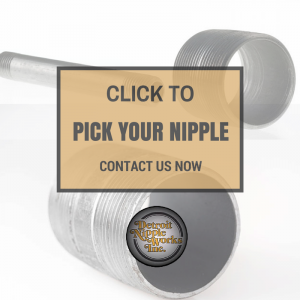 the gas. Stainless Steel Fittings have pressure ratings. These ratings are 150 psi for water, oil, and gas, and meet ANSI B 16.3 and MSS-SP114. Type 316 material has a higher corrosion and heat resistance than type 304 material. In addition, all connections are NPT threaded. Custom sizes can be special ordered. Premium Quality Stainless Steel Nipples and Stainless Steel Fittings and Valves are consistent and maintain a high quality. Popular applications use 304 and 316 Steel Nipples.
Stainless Steel Nipples at Detroit Nipple Works
Detroit Nipple Works can produce many sizes of Steel Nipples even larger sizes using 4″ to 12″ stainless steel seamless pipe.
Finally, to inquire about Stainless Steel Nipples, please call 313-872-6370 or, also if you wish to place an order, use our easy online Request for Quote Form.