The 304, 310, 316, 317 stainless steel nipples are in the 300 families of stainless steel used by many fabricators. Stainless Steel grades are very tough metals, providing nigh quality nipples, pipes, or tubing. The most popular and commonly used are 304 or 316-grade stainless steel nipples.
What is the difference between 304 or 316-grade stainless steel nipples?
316 stainless steel nipples are corrosion resistant and often used in applications such as; kitchens for sinks, ovens, etc.. Stainless Steel with 316-grade alloys are typically used for connections and tubing. The 316H grade is made to work in higher temperatures. Unlike 316 & 316L it isn't stocked with a dual certification like 316 & 316L often are. Both types have composition and properties that comply with both steel types. The 316 austenitic stainless steel is regarded as second in importance to the 304 grade, but also is great for welding and referred to as "marine grade" stainless steel by many. It, however, is not resistant to surface corrosion in warm salt water environments.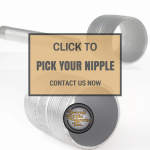 304 steel materials are used for chemical and high-pressure containment vessels. The popularity of the 304 relates directly to its ease for welding and fabrication. In addition to being easy to use, its aesthetics make it a favorite in production/display applications. The grade 304 is an austenitic chromium alloy also known as "18-8" because it is made up of 18 percent chromium and 8 percent nickel stainless.
The 304L and 316L both contain low carbon that making them better options for applications that require welding.
316 Nipples Stainless Steel
316 nipples made of stainless steel is known to have a nickel content, this includes molybdenum, which provides a better corrosion resistance. Many industries use 316 nipples such as the food industry, surgical equipment, pharmaceutical, and much more.
Detroit Nipple manufacturer uses 304 or 316 stainless steel for fabrication as they are the most popular in Troy. We do work with the other grades of stainless steel and other materials used throughout many industries like agriculture, health, food, medical equipment, manufacturing, heating, cooling, and many more applications. Finally, for more information on 304 nipples or 316 nipples please contact us. Our nipple professional will help you choose the perfect nipple for the application at hand.