DOM Steel Tubing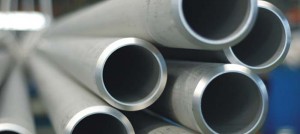 DOM (Drawn Over Mandrel) refers to the process that is used to create these round steel tubes. The DOM process that takes a steel strip that formed into its initial shape and then electric resistance welded together. From here the tubes go through an annealing process they are then "cold drawn" over a mandrel to give it is uniform thickness, smooth finish, and specified dimensions. At the end of the manufacturing process the DOM steel tubing appear to be seamless and have a smooth finish. As a DOM steel tubing distributor in Michigan we provide local and U.S. based businesses with product in large or small quantities at competitive prices.
DOM Carbon Steel Tubing provides many advantages with its availability, variations, thermal treatment, cold working and optimal strength. These tubes are known for the uniformity of their wall thickness, smooth outside and inside surfaces, and can be produced to customers specifications.
Some of the uses of DOM steel tubes include: snowmobile and motorcycle frames, hydraulic cylinders, axles, fittings, Torque Wrenches, to name a few.
If you're looking a DOM steel tubing distributor that sells the highest quality DOM steel tubing, look no further. We here at Detroit Nipple Works  have been in the business for over 80 years and are a leading supplier of industrial piping industry. We've got the experience and the reputation to prove it. We are here to make sure your order gets to you timely manner correctly the first time around. In today's fast paced market you don't have time to worry about the company you're hiring, so go with the best option the first time. We have a online quote request form you can fill out here. Contact us today about your Dom Tubing requirements and let us show you why you won't regret your choice.
Posted In: DOM Tubing, Stainless Steel Pipes
Tags: DOM steel tubing, Dom steel tubing distributor, local Dom tubing distributors, who can I buy Dom steel tubing from